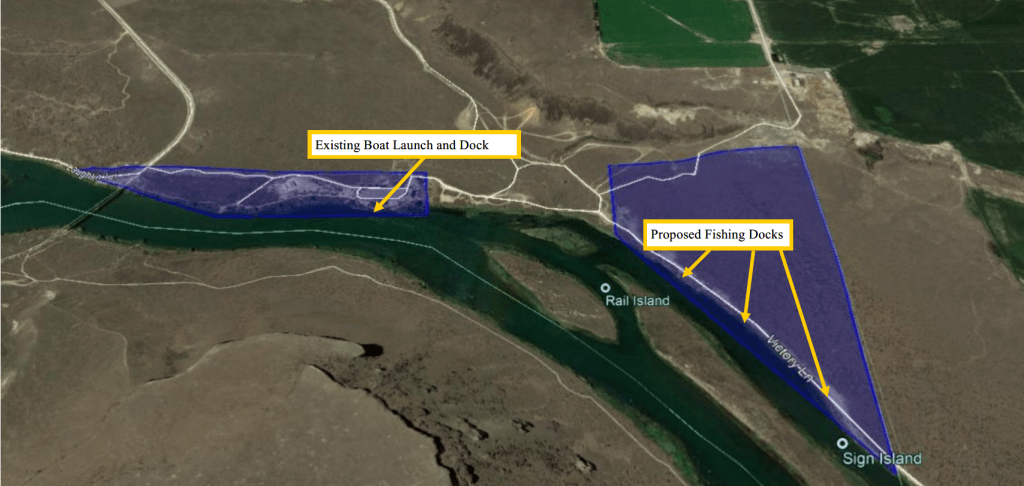 Canyon County Parks, Cultural & Natural Resources is proposing a phased installation of fishing docks at the east end of Celebration Park. This is the camping area that is located to the east of the main park. Our goals for this project are to 1) provide continued recreational access for anglers at Celebration Park, 2) improve visitor experience, 3) ensure the safety of dock users, 4) provide all visitors the opportunity to participate in fishing activities from these fishing docks safely, and 5) protect the fragile shoreline of the Snake River from erosion. To complete this project, Canyon County Parks plans to request assistance from Idaho State Parks' Cutthroat Plate Fund.
Background:
Canyon County Parks, Cultural & Natural Resources purchased the area that is now known as Celebration Park in 1989.  This area had been a popular fishing spot for many decades prior. In fact, Celebration Park was initially developed as a fishing access in tandem with the boating access known as Wiloth Landing. As the park has grown, so too has the area's popularity for fishing from the shoreline with numerous river accesses developing as a result. As the population of Idaho and specifically the Treasure Valley continues to rapidly increase these river accesses are seeing heavier and heavier use. This heavy use leads to extensive shoreline erosion, which negatively impacts the ecosystem along the river. These fishing docks would serve to improve access and safety for all anglers, especially families with children, and protect the ecosystem by removing the heavy traffic from the direct river bank, thereby lessening the erosion and destabilization of the shoreline.
Primary Applicant:
Canyon County Parks, Cultural and Natural Resources
1115 Albany St.
Caldwell, ID 83605
Partners:
U.S. Fish & Wildlife Service (Deer Flat National Wildlife Refuge)
Canyon County Sheriff's Office Marine Patrol
For questions, concerns, or additional information, don't hesitate to contact Outdoor Recreation Planner Juli McCoy at juli.mccoy@canyoncounty.id.gov or (208) 870-7358.