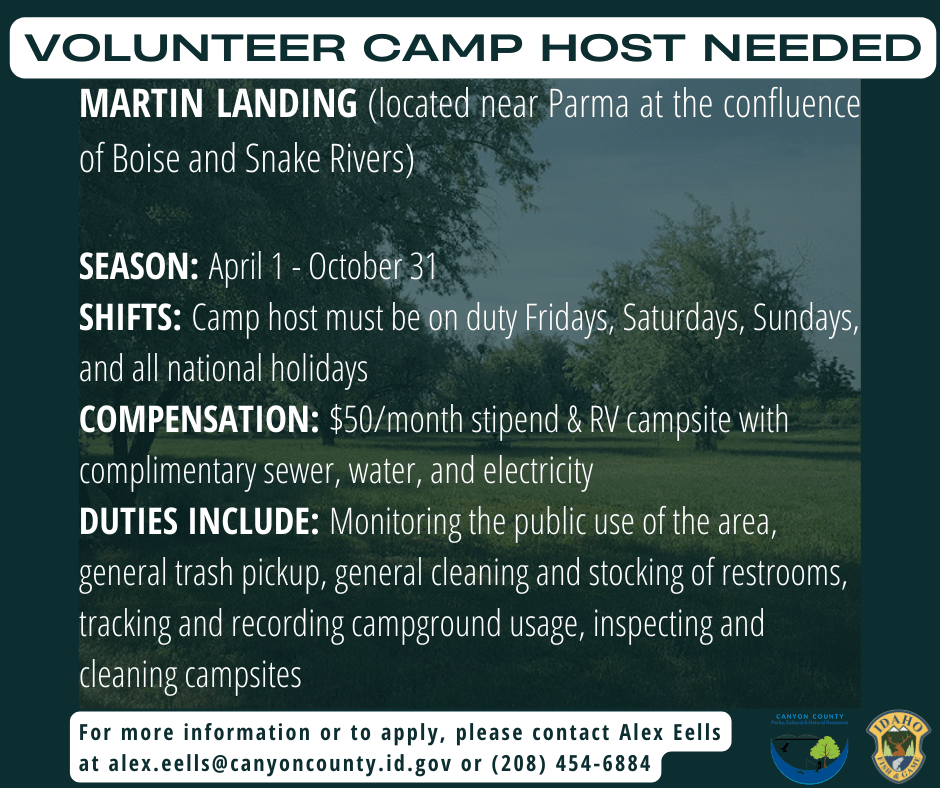 Canyon County Parks, Cultural & Natural Resources and the Idaho Department of Fish and Game are looking for a volunteer camp host to oversee basic maintenance, camping, and recreation activities at Martin Landing, which is located near Parma at the confluence of the Boise and Snake Rivers.
The volunteer camp host will receive a $50/month stipend and a complimentary RV site at Martin Landing that includes sewer, water, and electricity. The camp host must be on duty Fridays, Saturdays, Sundays, and all national holidays, during the camping season from April 1, 2023, through October 31, 2023. The primary purpose of a volunteer camp host is to assist and provide basic security for campers at Martin Landing. The duties of a camp host include the following:
Monitoring the public use of the area
General trash pickup
General cleaning and stocking of restrooms
Track and record campground usage
Inspect and clean campsites
Camp hosts work closely with Canyon County Park, Cultural & Natural Resources (CCPCNR), and the Idaho Department of Fish and Game (IDFG) to provide recreational opportunities in campgrounds. CCPCNR manages camping at Martin Landing. Although the camp host represents both agencies, his or her default supervision will be by CCPCNR.
For more information on the volunteer camp host position and or to apply, please get in touch with alex.eells@canyoncounty.id.gov. Please note: an interview and a criminal background check will be required for qualified applicants.