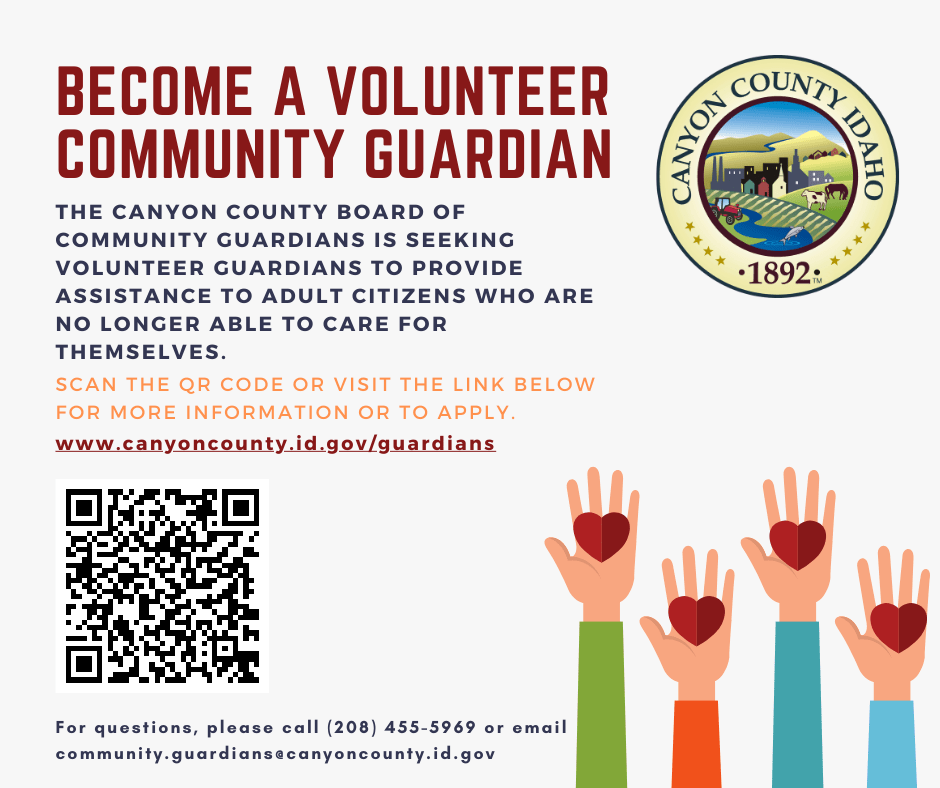 The Canyon County Board of Community Guardians is seeking volunteer guardians to help assist adult citizens who are no longer able to care for themselves. Volunteer guardians assist the Board of Community Guardians by visiting designated clients to monitor their situation, provide company, and help ensure they receive the care and benefits to meet their needs.
The Board of Community Guardians is looking for compassionate, dependable, and trustworthy people to serve as volunteer guardians. As a volunteer guardian, you will participate in making healthcare and financial decisions on behalf of clients. Volunteer guardians also visit designated clients regularly. Many of our clients have some mobility, and as a volunteer, you may take them shopping, for a walk, or out to lunch. Many clients like sitting and visiting, playing cards, or playing board games. Our clients live in assisted living or skilled nursing facilities, with a few certified family homes.
Those interested in becoming volunteers are encouraged to fill out the Volunteer Guardian Application. More information on the Board of Community Guardians can be found at www.canyoncounty.id.gov/guardians.
For questions, please get in touch with the County Coordinator for the Board of Community Guardians at (208) 455-5969 or community.guardians@canyoncounty.id.gov.