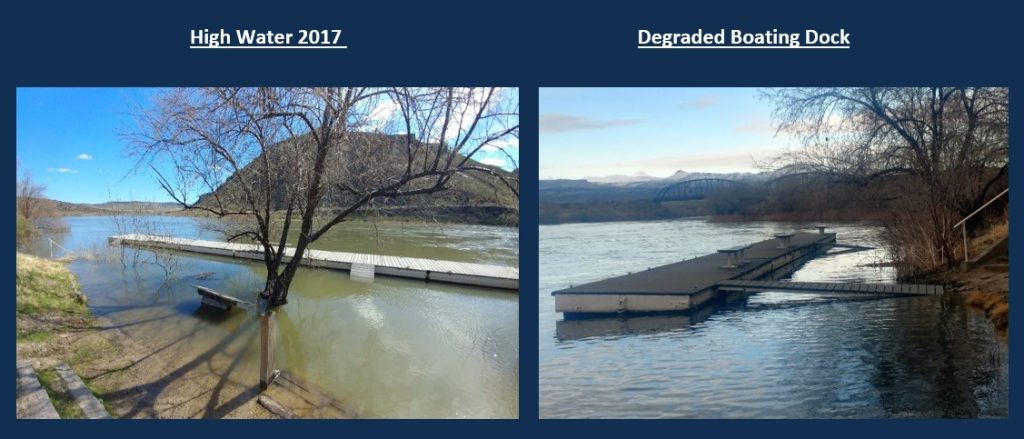 Canyon County Parks, Cultural & Natural Resources is preparing a grant application to the Idaho State Parks Waterways Improvement Fund (WIF) for its Celebration Park Snake River Boater Improvements project. We are requesting users' support on a project that will improve boating access at Celebration Park. The Snake River access area near Celebration Park's boat ramp was severely damaged during the flooding and high-runoff in spring 2017, following a severe winter. This project will significantly improve our motorized boating access and help with increased demands at this site.
Goals for Grant Project:
Upgrade existing motorized boating docks to a system that accommodates the river fluctuations while remaining ADA accessible
Improvements to the existing parking lot to allow better boater access
Maintain recreational access for motorized boating at Celebration Park
Improve motorized boater experience by decreasing congestion/user group conflict at the boating access facility
Ensure this boating access project conforms to best practices for ADA-inclusive design
Provide ADA-accessible, barrier-free boating and fishing opportunities for all Celebration Park users
For questions or comments regarding this project, please get in touch with Outdoor Recreation Planner Alex Eells at alex.eells@canyoncounty.id.gov. Please note the deadline to provide comments or letters of support is January 6, 2023. You can download a letter of support template for this project by clicking here.