Juvenile Detention
COMMISSIONERS
Overview & Mission
Southwest Idaho Juvenile Detention Center
OVERVIEW OF DETENTION
Juvenile detention, as part of the juvenile justice continuum, is a process that includes the temporary and safe custody of juveniles whose alleged conduct is subject to court jurisdiction who require a restricted environment for their own and the community's protection while pending legal action*. Juvenile detention may range from the least restrictive community based supervision to the most restrictive form of secure care.
The critical components of juvenile detention include:
Screening to ensure appropriate use of detention,
Assessment to determine the proper level of custody, supervision and placement,
Policies that promote the safety, security and well being of juveniles and staff,
Services that address immediate and/or acute needs in the educational, mental, physical, emotional and social development of juveniles.
Based on the Definition of Detention as adopted by the National Juvenile Detention Association, October 14, 2007
*(Idaho Code also allows the use of secure detention as a dispositional alternative.)
MISSION STATEMENT
The mission of the Southwest Idaho Juvenile Detention Center is to furnish architecturally secure detention for those youths within Idaho's Third Judicial District who have violated the law and present a threat to the community, subject to the determination of the courts.  Further, the Center shall be an integral part of the Juvenile Justice system as it exists in Canyon County and all participating counties.
SWIJDC is committed to uphold and follow the guidelines of the Juvenile Justice and Delinquency Prevention Act which are contained in the four core requirements, which are:
Deinstitutionalization of Status Offenders
Jail Removal
Sight and Sound Separation of Juvenile from Adult Offenders
Disproportionate Minority Contact
SWIJDC is also committed to support the tenets of the "Balanced Approach," upon which the Idaho Juvenile Corrections Act is based.  Those are:
Community Protection,
Accountability, and
Competency Development.
Programs
ARISE Program
in approximately 2013, Officer Muntaga Bah found information about the ARISE program, and became a faciltator.  The Arise program is used to teach the residents topics including, but certainly not limited to fatherhood, gang resistance, anger management, healthy lifestyles, self esteem, nutrition, hygiene, finances, etc.
Horses!
Several times per year, Officer Candy Martilla teaches the residents about horses in the classroom, and then actually brings three of hers in for the kids to groom and ride.  At the end of "Horse Week," parents can come in and watch their son or daughter ride.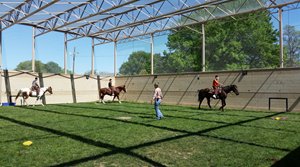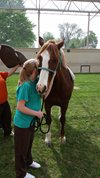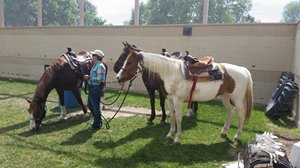 Bikes!
The Juvenile Probation Community Service Coordinator, Ross Garven, brought a load of bikes in for our residents to triage, fix, salvage or do whatever we could with them.  Officer Nathaniel Ashby has been our resident expert in this program.  The bikes are then donated to needy families.
Small Engines
Deputy Director Sean Brown spearheaded a small engine "repair" group.  We have had several donations, and the kids dig into the engines to see what makes them work.  Some things actually do get repaired, but there are no promises!  Staff have used some of their own equipment as guinea pigs, with surprisingly good results.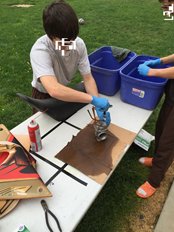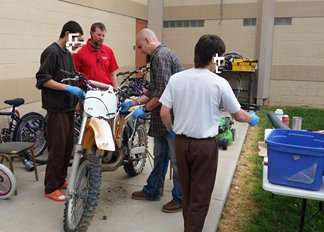 Pat Andersen School Garden
In Spring 2011, the SWIJDC began the Pat Andersen School Garden with a grant from the Idaho State Department of Education and through the help of more than a dozen local sponsors who donated seeds, soil, mulch, plants, fertilizer, irrigation supplies, lumber and other items.
The garden acts as an outdoor classroom for the juvenile detainees and gives them a hands-on experience as they work towards the common goal of creating a thriving vegetable garden.
Under the direction of Garden Coordinator Craig Olsen,  the Pat Andersen School Garden has harvested over 6,000 pounds of produce that has been donated to charities across Canyon County.
Letters
We will try and post letters, or articles, etc., that are relevant to the mission and goal of the Center.  We cannot promise that every letter we receive will be posted due to space and time constraints, but we will do our best.
Memo to all future Criminals
The following is an unsolicited letter from an ex-resident of the Southwest Idaho Juvenile Detention Center. We have elected to print it exactly as it was written, even though there are a couple inaccuracies:
This is a memo to all future Criminals
I want to tell you about the Juvenile Detention Center (J.D.C.). Out of a twenty-four hour day you go to school for five hours. After school you will get an hour of gym, then later on in the day you get an hour of leisure time. In the old facilities the cells are 8 feet by 10 feet and there are 18 of these cells with 2 holding cells. In the new facilities the rooms are 8 feet by 5 feet, there are 60 of these new cells so there's always room. There's one window in your room you are forbidden to look out of it unless told to. You can never trust the food because it's made at the Canyon County Jail and you never know what those inmates might put in it or do to it. These are some descriptions of the beautiful clothes that you get to wear; the pants are green and white striped, orange, and blue, the shirts are dark green, white, light green, and orange. The only items that you are allowed in your cell is; one book, one bible, one deck of cards, and any of your mail. Your parents and grandparents can visit you on Wednesday and Sunday for one hour. You get your blankets at 7:00 p.m. and have to fold them and put them outside your cell at 5:30 a.m. You love your blankets because it gets pretty cold in here. It's a constant 68 degrees Fahrenheit and even colder after you get out of the shower. You must obey all rules and the staff and respect them and the other juveniles if not you will be put in lock down. Theirs only one thing you have to do to stay out of a place as this and that's stay out of TROUBLE, AND SAY NO TO DRUGS AND ALCOHAL I would also like to point out that this place is heavenly compared to Saint Anthony's and J.D.C West. I sincerely hope that this letter will encourage you not to commit crimes because this is not some place you would like to be trust me. If it didn't their will always be room for you here at South West Idaho Juvenile Detention Center.
Ex inmate M______ ____
This letter was wrote while my stay at J.D.C as an inmate.
Reports
This page and the pictures may be downloaded or copied, printed off to be used in reports for school.
This page was started on May 1, 2003, and more will be added as more questions come in.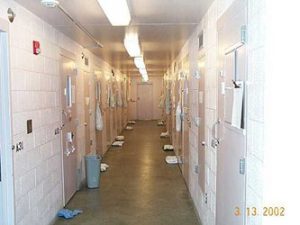 (Hallway) Here is a view down one of the hallways. You are looking at 12 cells. There are 12 more immediately upstairs, making it 24 for each wing.  We have 3 wings, giving us 72 regular rooms. We also have a 14 bed dormitory and 4 observation rooms. The bags hanging from the hinges contain laundry. The white piles on the floor are the freshly laundered bedding and linen. The closest door on the right, with the sliding hatch, is a shower.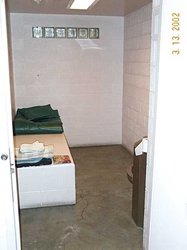 (Cell Interior) This is one of the cells. The kids must fold their bedding and keep the room neat at all times.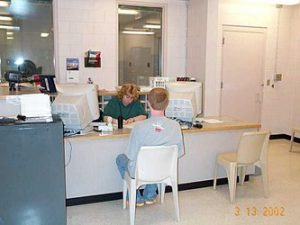 (Booking Area) This is our booking office. Kathy is booking in a juvenile. All of the information goes into our database, then we fingerprint, photograph and change the kids into our clothing. All of the information we have, including fingerprints and photographs, are available to any law enforcement agency and the FBI.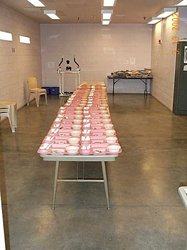 (Dayroom with food trays) This is the dayroom, almost all set up for the kids to come in and grab a tray before going to their rooms to eat. Just before the kids come through, we put sandwiches on the trays, and spoon out the soup. Our 'magazine rack' is the table in the back of the room.  The game cabinet is the dark thing on the far right. Our library shelves are just out of sight past the game cabinet. You must earn the privilege of using the exercise machine.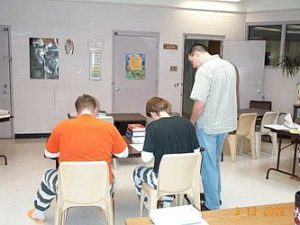 (School Room) This is our school. We have 3 classrooms in operation, with 3 teachers and an aide. In this picture, our aide is helping a juvenile.  Notice the clothing. The kid on the right is on Level 3, which means he gets some more privileges that the kid on the left, who is on Level 2. Privileges include more time out of their room, more gym time, more phone calls each week, visitation with extended family members, more books in their cells, etc.
Over the years, juvenile detention centers have evolved from warehouses that offered little or no programming into centers where the juveniles can attend school, helpful classes such as anger management, drug and alcohol awareness, cognitive restructuring, life skills, creative writing, etc. Depending on size and resources, other programs may be available. The SWIJDC also has a small wood shop (Very limited tools and projects), and we do easy sewing projects, etc. The juveniles have to earn the privilege to enter these programs.
It is the duty of the juvenile detention center to try to teach things to the juveniles that will make them better citizens when they get out.
---
Here are some more questions that have been asked by others:
How many kids can the facility hold? We have 90 beds, but we have enough staff to hold about 56 kids right now. As population rises, we will hire more staff.
How long do they usually stay in detention? The average stay is about 15 days, but we some juveniles have been here for a year or longer.
How many kids are in the facility now and on the average? The average over the past 2 years has been a steady at around 45. We usually see a dip at certain times of the year, but we also see peaks in population at other times of the year. Our population has reached 74 in the past.
Why are the kids in there? Kids can come into the center only if they are accused of, or have committed a crime. We don't hold anyone for being abused or neglected. We have some kids who come in because they failed to go to court on minor offenses, like smoking or possession of alcohol, but we also have kids that are here because they have committed violent offenses.
What happens when the kids do not follow the rules? They receive write ups, and this keeps them from moving up on our level system, which is how the kids earn more privileges. We have rules separated into Minor(Class C), Intermediate(Class B) and Major rules(Class A). The Class C rules include not folding your bedding and talking in the hallway. Intermediate rules include disrespect for staff or other juveniles and using profanity. Major rules include fighting and interfering with a head count.
What is the day like for the kids? They get up on a schedule that depends on their level status: If they have been here a while without any behavior problems, then they are allowed to sleep a little bit later. Otherwise, we start getting them up at about 5:00 or 5:30. They clean their area, then eat and go to school. We have three school rooms here so that the juveniles do not have to go to any outside school. They also have an hour of gym during the school day and a short lunch break. After school, which ends about 2:15, they are given at least one hour of leisure time in community dayrooms. They can earn more time depending on their level. We have four levels on the level system, 1,2,3,4. It takes 4 weeks to get to level 4, and they get more freedom as they move up. The juveniles are back in their cells for dinner, but usually come out after dinner for programs and visitation, which occurs Wednesday and Sunday, for an hour each time.
How many juveniles are in each cell? The cells are only big enough for one juvenile, but when our population reaches 77, we will start using our dorm room, which will house 14 juveniles.
Do they have to go to school while they are in there? YES! We have three classrooms that operate on a year-round basis. For example, the kids will have the day off on Christmas Day, July 4, New Years, President's Day, Labor Day and Memorial Day, Columbus Day, Thanksgiving and Veteran's Day, but they do not get long Spring or Christmas breaks like in a regular school. They also attend school throughout the summer. School is important to us.
What happens when you have a fight? Our staff is trained in an state-wide approved method of restraint to be able to stop the fight, then the juveniles are separated and will be charged with a Major(Class A) rule violation, and also will probably be charged with Assault or Battery by the police.
Who puts kids in Detention? Well, the logical answer to that question is that Police Officers, Judges and in some cases Probation Officers have the authority to place kids in detention. BUT, the real answer is that the kids themselves choose to come into detention through their actions and behavior. When a person commits a crime, they have to realize that one of the consequences of that crime may include detention. For example, if you choose to steal, you have also made the choice to visit detention. Kids in detention cannot blame others for what happens as a result of their crime. That is a simple principle that applies everywhere. Even kids outside of detention cannot blame others for the results of any other action. For example, don't blame the teacher if you do not study and end up earning an "F" in class. EVERYONE MUST TAKE RESPONSIBILITY FOR THEIR OWN ACTIONS!
Address
222 N 12th Ave.
Caldwell, ID 83605
Visitation
Visitation will start on July 5th, 2021.
To set up visitation, please call 208-454-7240