Court Assistance Office
TRIAL COURT ADMINISTRATOR
ROOM 334 | 208-454-7455
Walk-in hours: Monday – Friday | 9:00 a.m. – 12:30 p.m. & 1:00 p.m. – 3:00 p.m.
---
The Court Assistance Office provides information and resources for individual who do not have an attorney, but need help with their civil court cases. The Court Assistance Office is not a substitute for an attorney, and legal advice is not available through this office.
Court forms are available to print for free at www.courtselfhelp.idaho.gov. If you would prefer to purchase a complete packet, please visit our office during regular walk-in hours.
If you are not able to locate the documents that you need, you may have to contact an attorney to create court forms for your particular case type.
iCourt Portal Kiosk
---
The iCourt Portal Kiosk is available to use for free. Computers are available by the Court Assistance Office.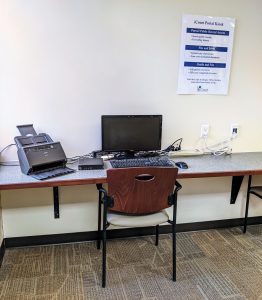 The kiosk can be used for:
Records searches (archived records cannot be printed from the kiosk).
Guide and File access for self-guided interviews for completing court forms for the following case types:

Protection Orders
Small Claims
Guardianship of a minor (adult guardianship is not available)
Divorce without minor children

File and Serve access for manual upload of court forms. Scanner access is available to scan your documents prior to filing.
Court Forms Workshop
---
The Court Assistance Office hosts weekly online workshops to help with court forms for Divorce with children, Custody and Child Support, and Modification of Custody and Child Support. The workshop will help you with:
Understanding how to use each of the court forms in the paperwork process.
Understanding the steps involved in obtaining your court order. You will be responsible for understanding each of these steps.
Understanding the Idaho Child Support Guidelines and what is required in child support cases. You are required to complete child support calculations along with your other court forms, otherwise your order may be denied.
Understanding property and debt distribution and the risks of not disclosing property and debt.
When you attend the workshop, you will have the opportunity to work with a parenting plan expert who will help you to create a detailed and enforceable parenting plan. In addition to the help that you will receive with your court forms, we can also help complete your child support calculations.
Here are the steps to prepare for the workshop:
Locate your documents at

www.courtselfhelp.idaho.gov

.

 

Print out all of the forms located under step 1 of your case type.
Fill out the documents, and familiarize yourself with the information in the forms. Fill out as much of the information as you can on each of the documents before attending the workshop.
Contact the Court Assistance Office at (208) 454-7455 or email

cao@canyoncounty.id.gov

to register for the workshop.

Online Resources
---
Visit our video library page to access additional information. We will continue to expand the library to help you gain a better understanding about a variety of legal matters, as well as instructional videos to help you prepare for filing your court case.
Address
1115 Albany St
Caldwell, ID 83605
ROOM 334
Hours
Monday – Friday
9:00 a.m. – 12:30 p.m. & 1:00 p.m. – 3:00 p.m.
(excluding holidays)