Other Educational Programs
COMMISSIONERS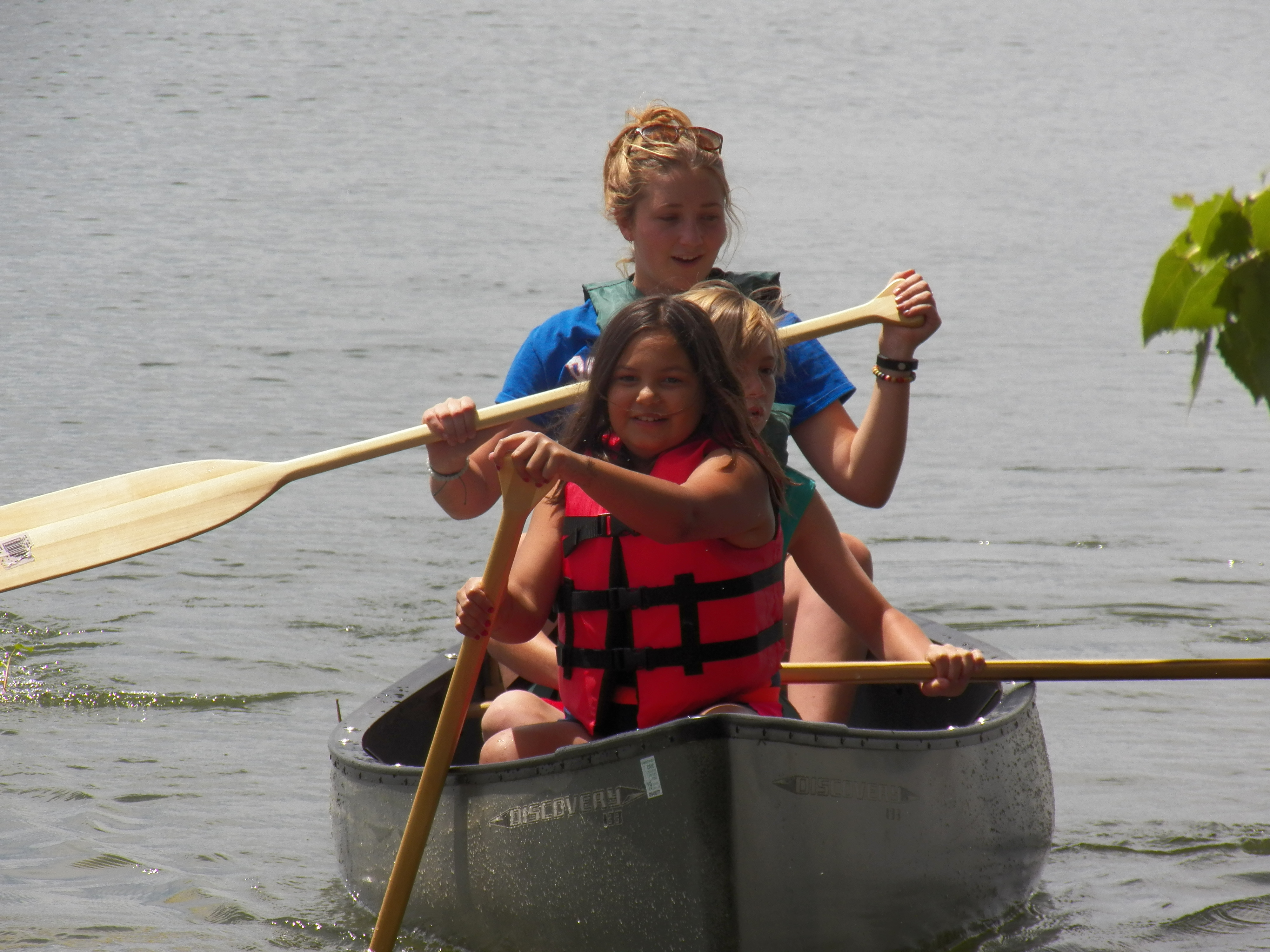 In addition to our award-winning academic field trip programs, Canyon County Parks offers place-based educational opportunities for children, adults and families! Click through the tabs below to learn more about our current program offerings, and how to register.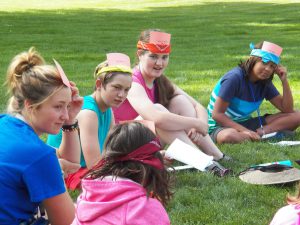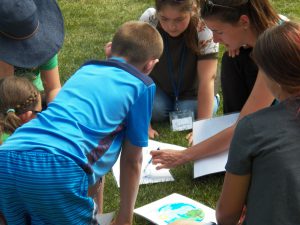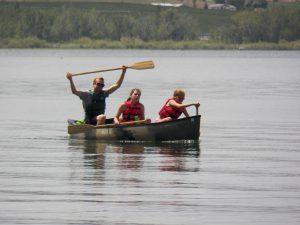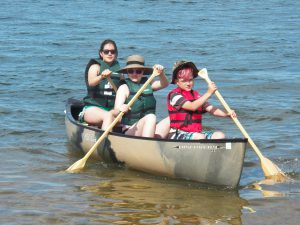 Canoe Science Camp is a fun and educational summer program for kids! It is based at Canyon County's Lake Lowell Park and offered during June & July.
This is a learning-focused STEM summer camp for 10-12 year olds interested in exploring the outdoors through science and recreation. Student participants collect water quality data using scientific instruments and engage in hands-on field science, experimental design, and hypothesis testing to learn about ecology and hydrology. They also develop recreational paddling and hiking skills through practice each day. Trained adult guides in each canoe will ensure safety and provide a fun and supportive learning environment.
Timeframe:   June and July, Monday through Friday, 9 am to 2 pm
Capacity: 14 students per session
Age range: 10-12
Cost: $50
Participants must be registered by their legal parent or guardian.
Registration Information: Our partners at Nampa Parks & Recreation are processing registrations for the Canoe Science Camp programs! For more information or to register, go to:  Canoe Science Camps. Contact us at parksprograms@canyoncounty.id.gov if you have any Canoe Science Camp questions in the meantime.
Desert Studies Institute (DSI) was established in 1997 as a cooperative program between the Department of Anthropology at Boise State University and Canyon County's Celebration Park. Each summer, Canyon County Parks staff team up with local natural and cultural resource experts to bring you a 2-day Desert Ecology course focused on Celebration Park and other unique sites of the Snake River canyon. Desert Ecology is just one of the exciting academic programs offered through the Desert Studies Institute each year. Undergraduate or graduate credit is available through Boise State University for DSI workshops. A small workshop fee also applies to these programs and requires advance registration.
For information on course offerings and faculty (or to register): 
Desert Studies Institute Website
Boise State Summer Program/Extended Studies
(208) 426-1709
The Idaho Master Naturalist Program aims to develop a corps of well-informed volunteers to actively work toward stewardship of Idaho's natural environment. The program is coordinated by Idaho Fish & Game, and there are currently eight chapters statewide. Canyon County Parks is a partner of the Deer Flat Chapter, hosted by the Deer Flat National Wildlife Refuge in Nampa. In addition to the Refuge, Chapter partners include the Bureau of Land Management's Morley Nelson Snake River Birds of Prey National Conservation Area and the Orma J. Smith Natural History Museum at The College of Idaho. The Deer Flat Chapter was founded in 2016 to bring the Master Naturalist program to the western Treasure Valley.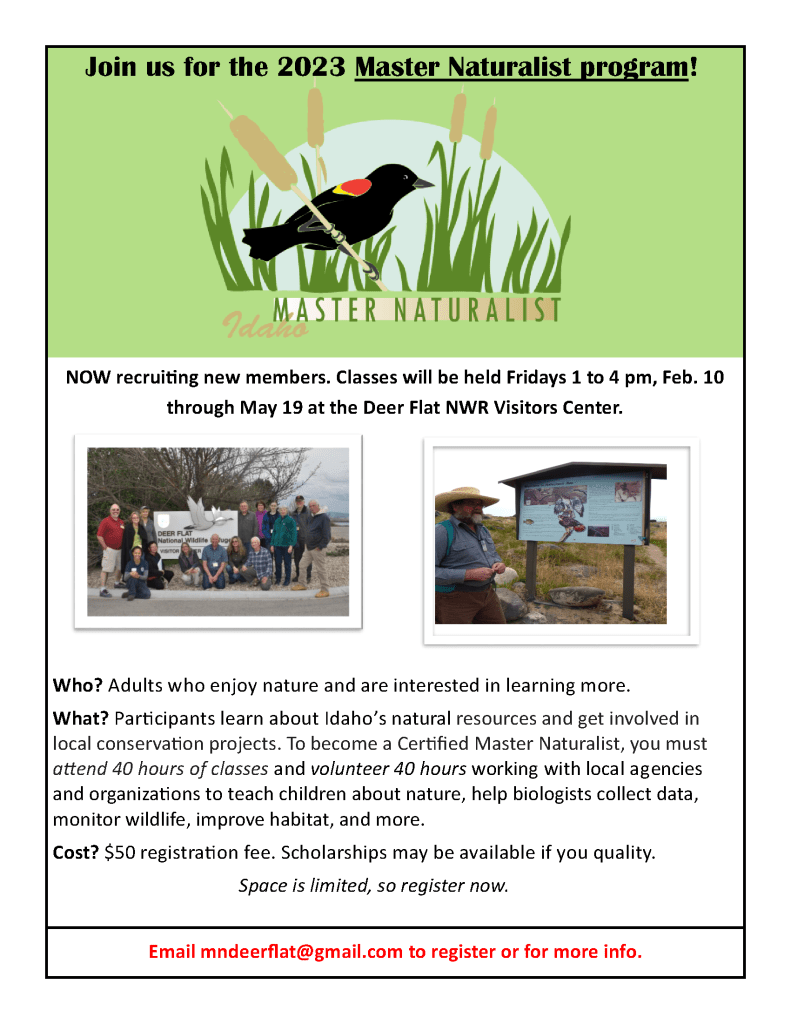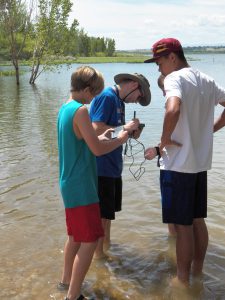 Summer Job Opportunity: Canoe Science Camp Field Instructor
Canyon County Parks hires temporary full-time staff as Field Instructors and canoe guides for our summer Canoe Science Camp programs. These Field Instructors are responsible for teaching elementary school-aged campers about hydrology, riparian ecology, water quality science, and the various types of habitats found at Lake Lowell. They also instruct campers in canoe skills and water safety. Interested applicants should contact our Programs Manager, at parksprograms@canyoncounty.id.gov.
Additional Information
Position Details: Canoe Science Camp – Field Instructor Flyer 
Mailing
1115 Albany St.
Caldwell, ID 83605