Celebration Park
COMMISSIONERS
Situated along the Snake River, Celebration Park was established as Idaho's only archaeological park in 1989. A walk through the huge basalt melon gravels deposited by the Bonneville flood reveals petroglyphs 100 to 10,000 years old. Visitors learn about the Paleolithic and Archaic lifeways and enjoy throwing a dart with an atlatl. Experience a walking tour of historic Guffey Railroad Bridge and be captivated by southwest Idaho's early mining and railroad history.
Things to keep in mind when visiting Celebration Park
Celebration Park hosts many educational tours and school field trip programs year-round.  We ask all visitors to be respectful of school groups and other formal programs.  For more information, visit our Field Trips page.
Archaeological sites are protected by state and federal law.  Please be respectful of Celebration Park's unique archaeology and cultural heritage.
Picnic tables are available for day use and camping, on a first-come, first-served basis.
For fishing regulations, please see https.//idfg.idaho.gov/.
Celebration Park is on the western border of the Morley Nelson Snake River Birds of Prey National Conservation Area (NCA), which is managed by the Bureau of Land Management.  For NCA visitor information, visit their website.
The Snake River Islands near Celebration Park are part of the Deer Flat National Wildlife Refuge's Snake River Islands Unit. Visit their website for information on rules and regulations, and habitat management practices on the islands.
Guided Tours and Interpretive Programs
Free guided tours are available during visitor center hours (10 AM-2 PM).
Monday-Friday:  Call in advance (208-455-6022) or email parksprograms@canyoncounty.id.gov to schedule a tour and discuss program options. We host many school field trip programs on weekdays, especially from mid-March through October.  Walk-in tour requests will be accommodated as staffing allows.
Weekends:  check in at the visitor center to schedule a tour and discuss program options.  You do not need to call ahead to reserve weekend tours, unless your group contains 20 people or more.
Our Interpretive Specialists provide petroglyph tours, lessons on the atlatl range, and other interpretive programs about the cultural and natural history of the Snake River Canyon.
Celebration Park is open year-round, 24/7, for day use and camping.  The visitor center is open daily from 10 AM to 2 PM. Holidays may affect staffing and building access.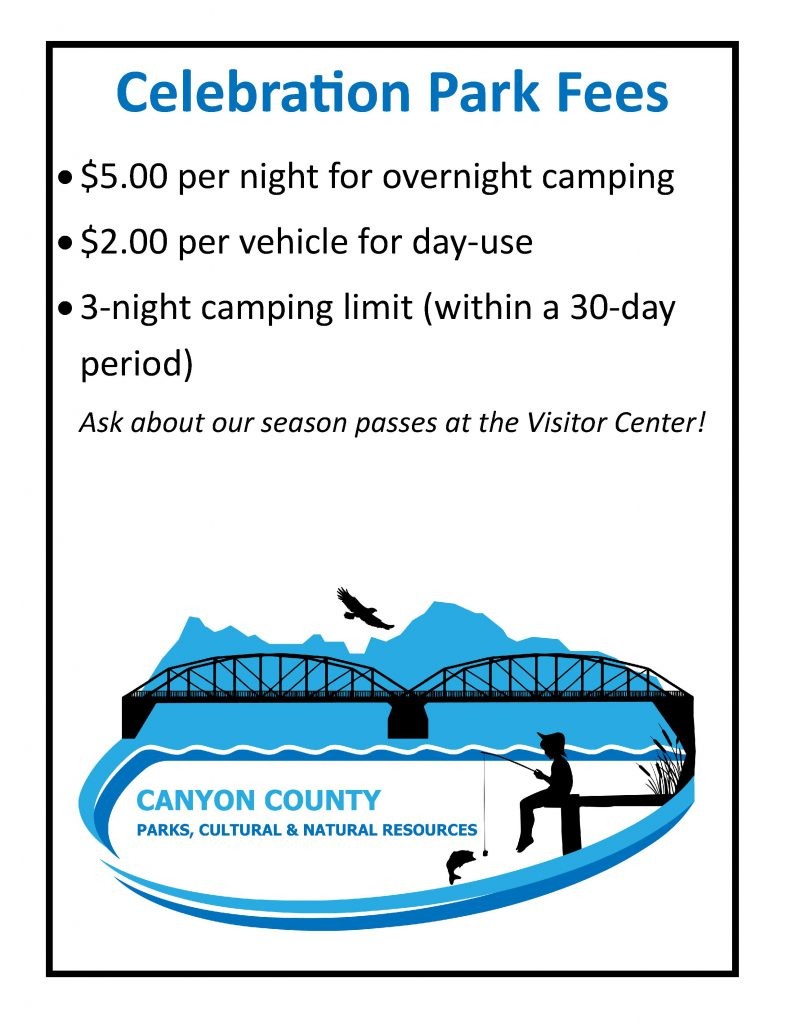 Camping Information
Day use: $2 per vehicle
Camping: $5 per night (3 day limit within 30-day period)
Camping areas are available on a first-come, first-serve basis only.
Day use and camping fees are payable by envelopes in fee boxes (one located on south border of main parking lot; one located just west of the Visitor Center, one located at entrance to East End Campground).
Groups of more than 50 people must obtain a special permit from the Director of Canyon County Parks to camp overnight.
No electricity or RV hookups.
Potable drinking water is available outside the visitor center.
Visitor center restrooms are open 24/7.
Season Pass: $15, Seniors: $5
Season passes are available for purchase in the visitor center, from 10 AM to 2 PM daily.
As we are a county-operated park, we do not accept Idaho State Parks Passports in lieu of payment.  Day use and camping fees help support the maintenance and improvement of our facilities.
Camping Guidelines
Quiet Hours: The time period between ten o'clock (10:00) PM of one calendar day and seven o'clock (7:00) AM of the following day. During quiet hours, no generators or other motorized equipment emitting loud sound and exhaust shall be permitted to be in operation; provided, however, that vehicles entering and exiting the campground are permitted.
Cleanliness: Campers shall keep their campgrounds and other use areas clean. Garbage and other solid waste shall be placed in the garbage cans provided.
Liquid Waste: All liquid waste shall be held in self-contained units or collected in watertight receptacles in compliance with state-adopted standards and dumped in sanitary facilities provided for the disposal of such wastes.
Unattended Campgrounds: Campers may not leave their camps unattended for longer than one camping day, except by written permission of the park manager or his/her assistants.
Additional Rigs and Vehicles: All boats, trailers, rigs, and motorized vehicles of all types must fit entirely within the campsite parking spur provided with the assigned campsite. All second vehicles, including trailers, boats, rigs, or other motorized equipment which do not fit entirely within the campsite parking spur must be parked outside the campground in an area designated by the park manager. If no outside parking is available, a second campsite must be requested.
Camping Equipment & Personal Belongings: All camping equipment and personal belongings of a camper must be situated and maintained within the assigned campsite.
Campfires: Use of fires is restricted to designated grills and fire rings. Canyon County Parks may prohibit all campfires during times of high wildfire danger, check our website for updates on seasonal fire restrictions.
Pets: Leash Required. Pets are allowed within a county park or recreation area when confined in a vehicle or controlled on a six-foot (6′) leash. No person shall allow their pet to create a disturbance which might be bothersome to other park users.
Directions from Boise: 
Heading west on I-84 take the Meridian/Kuna exit. Turn left onto S Meridian Rd. Continue onto E Avalon. Turn left onto Swan Falls Rd. Turn right onto Victory Ln. Continue onto Warren Spur Rd. Turn left onto Sinker Rd. Turn left at Historic Guffey Railroad Bridge.
Directions from Nampa/Caldwell:  Follow ID-45 S/12th Ave Rd. Turn left onto Ferry Rd. Turn right onto Hill Rd. Turn right onto Sinker Rd. Turn left at Historic Guffey Railroad Bridge.
Directions to Celebration Park (click to open a map with driving directions).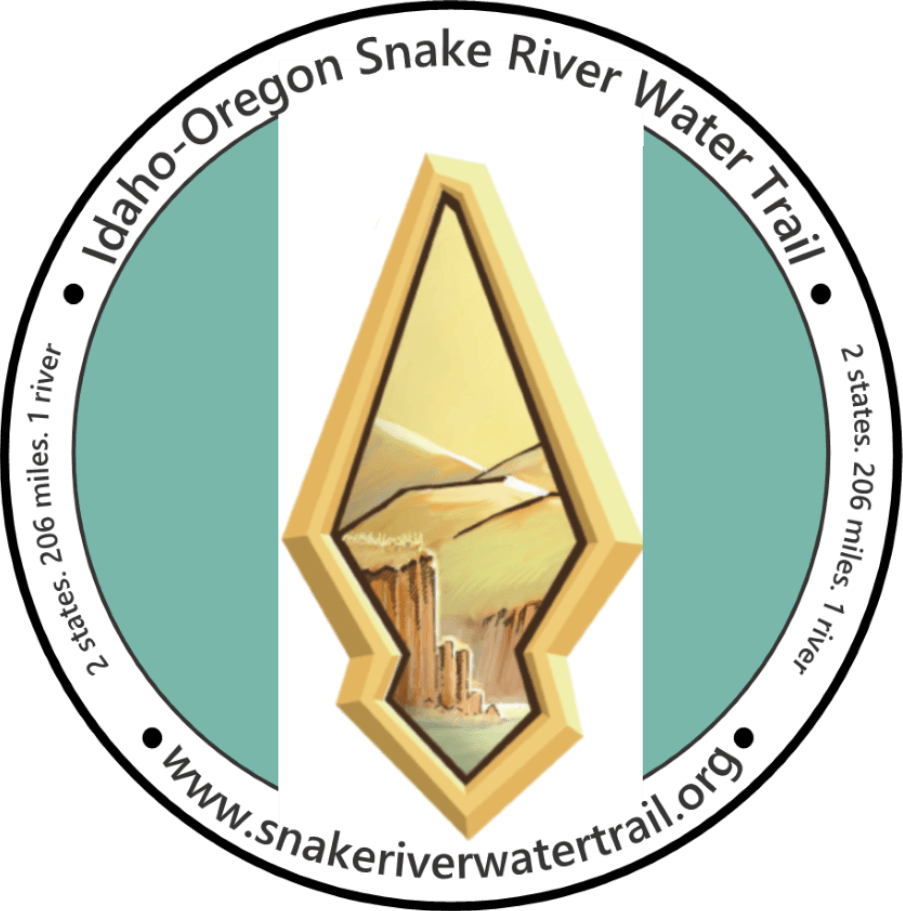 Mailing
1115 Albany St.
Caldwell, ID 83605